MILAN Height Adjust Collab Bench
MILAN blurs the line between office and cafe, with its natural Scandinavian style and planter box, paired with its manual height-adjust option. Hugely diverse and fully customisable, MILAN is the perfect balance of aesthetics and functionality, perfect for any collaboration and breakout spaces.
Share
Features
1

Modern, minimalist style

2

Built-in planter

3

Sit or Stand Height Adjustable
Specifications
Overall Height: 1660mm
Planter Height: 200mm
Overall Length: 2400mm
Planter Length: 2130mm
Overall Depth: 1000mm
Planter Depth: 250mm
Table top at sitting height: 720mm
Table top at standing height: 995mm
Available finishes:
Legs: Timber Dowell, Metal sock
Table Top: Laminate, Veneer, Solid Timber
Planter Box: Laminate, Veneer, Powdercoated Metal
Supports/Structural: Powdercoated Metal, Steel
What can be customised: Dimensions, Finishes/Materials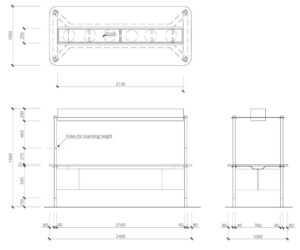 Fill out the form to make
a general enquiry about this product.