Blending Education Architecture + Innovation at UTS
The education architecture sector is continuously evolving and embracing new learning styles and striving to offer students advanced education experiences. We are inspired by modern learning styles that blend architecture, education and innovative interiors in order to adapt to rapidly changing technology, the move toward ABW and shifting teaching styles. Contemporary architecture and design is re-shaping universities to include multi-use collaborative and inspirational spaces for agile learning.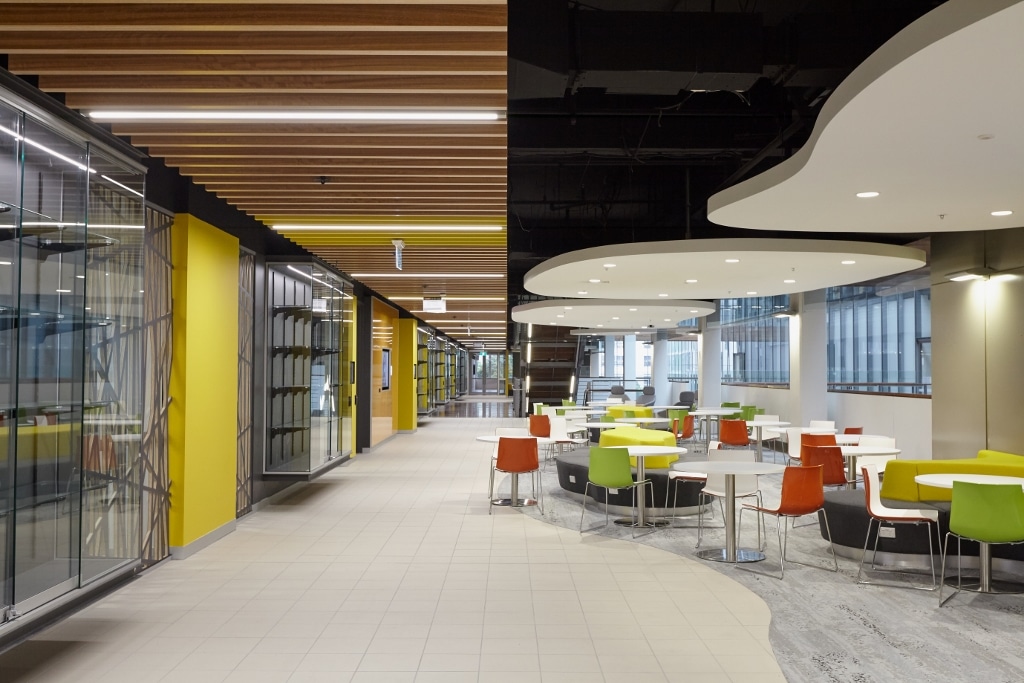 This innovative, collaborative approach to learning encourages students to exchange knowledge, take control of their training in a new way and work in teams to grow and explore. The fitout of Building 10 at University of Technology Sydney (UTS) has been designed to incorporate this agile learning style, imbibing an active approach to studies. The new space provides a colourful, functional and welcoming space for students and staff to work, study and learn. Sprawling open spaces are enhanced with modular open plan seating, benches, and striking Corian seating, designed to encourage student breakout and self-driven study.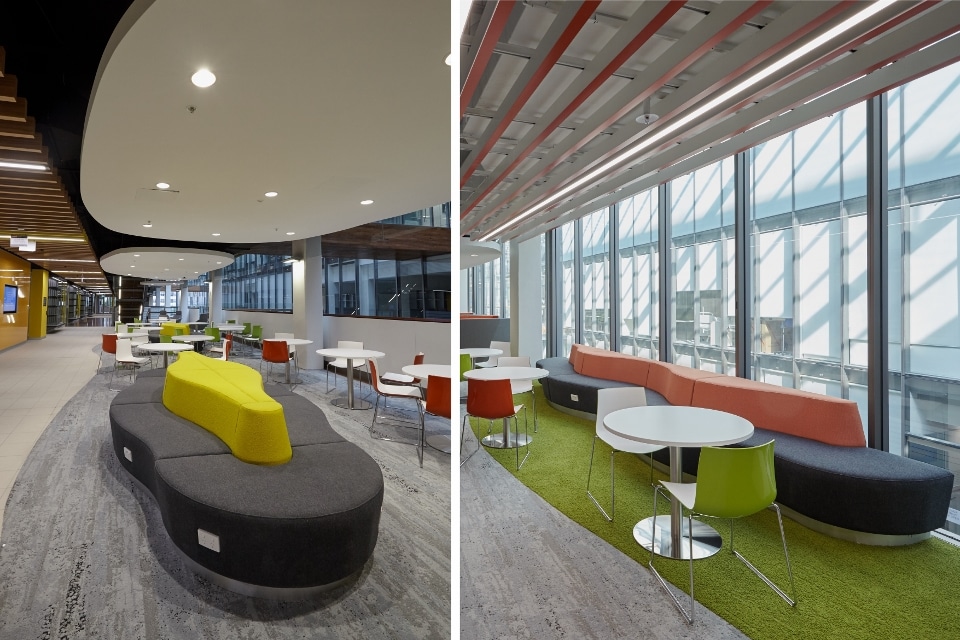 Behind these masterpieces of contemporary design is a parallel crafting story, making sure every aesthetic facet has its equally important functional requirements met. High use study areas demand joinery and furniture of the highest quality to withstand intense use. Materials were carefully chosen to achieve a utilitarian yet aesthetic outcome. Corian was chosen as a hard-wearing and easy maintenance solid surface along with heavy duty commercial grade fabrics to achieve longevity and durability in these high traffic areas.
UTS education architecture and furniture blends the traditional colourful atmosphere of a learning environment with sophisticated custom made furniture to give the space a unique identity.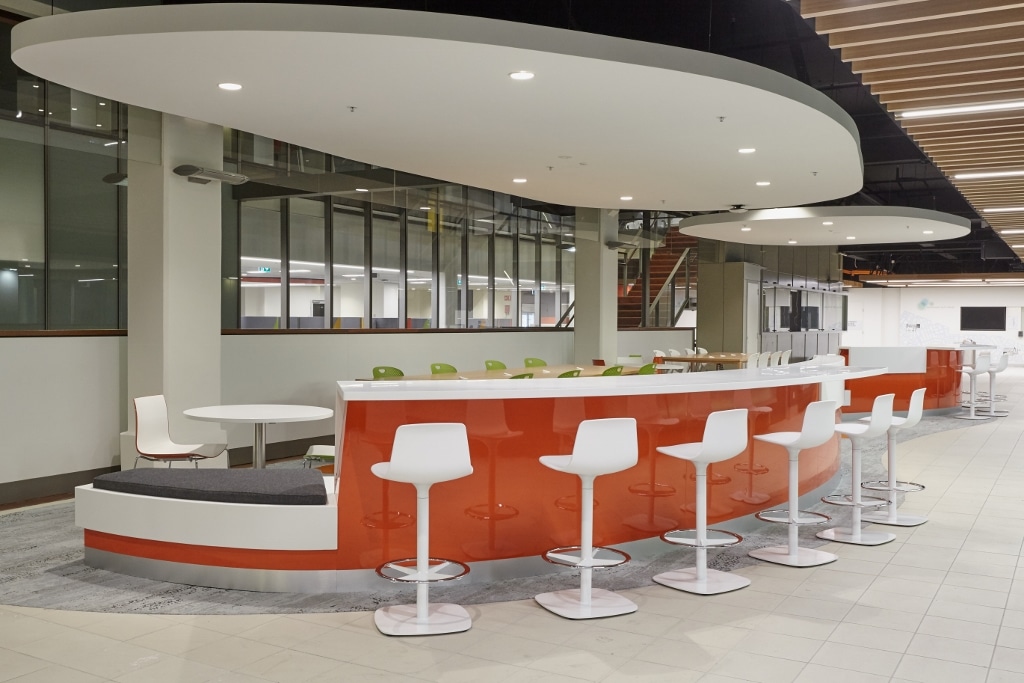 An inspiring colour palette of vivid accents is well balanced by muted tones, achieving a cheerful, welcoming and pleasant learning environment for staff and students at UTS. Within a modern building design, featuring unique furniture solutions, the project is a balanced blend of education architecture and innovation.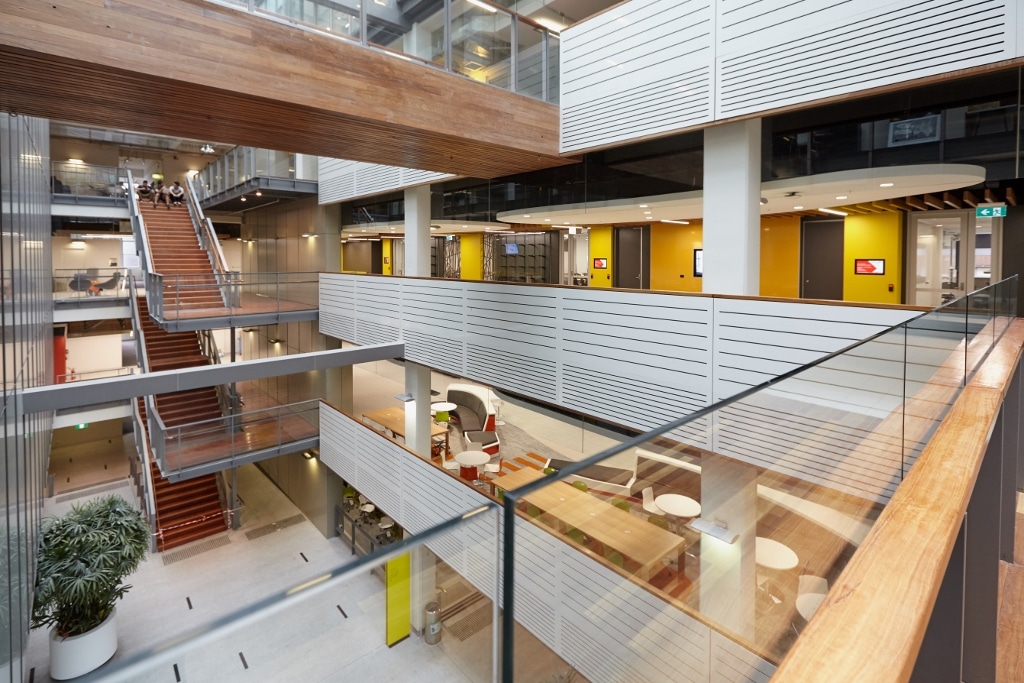 Education architecture is fast moving towards the trends for flexible working, learning and living. Encouraging self-direction, balanced learning methods, the new UTS fitout aims to maximise student opportunities.
Read more & download the project profile to view more images
Browse other education projects
Explore some of the products used in this project