There is so much more to a successful office design than meets the eye. It is a blend of good design, quality manufacturing, timely delivery and planning for people that makes a successful office fitout project. We love revealing the hidden details, fine crafting and unique materials that make a project great.
6 KEY FACTORS FOR A SUCCESSFUL OFFICE FITOUT
Team work
Materials and finishes
Sustainable design
Design for culture
Quality custom furniture and joinery
Continuous improvement
TEAM WORK
"Together we can do so much!" Successful office fit-outs are imbued with high quality teamwork all the way through. From initial discussions with the client, to concept development, RFI requests, delivery, coordination of trades and handover. Make sure you develop a team you know can perform.
The Domain project scored 'Perfect Delivery'. This included program completion, zero defects, handover and training and adherence to the client's key values; a tribute to the high level of team work to bring about this successful office fitout.
The teamwork continues post-occupancy too. Sharing, collaborating and networking are key to business success and all involve teamwork. Designing for teamwork is key. It's about using office design to maximise each individual, in a team setting.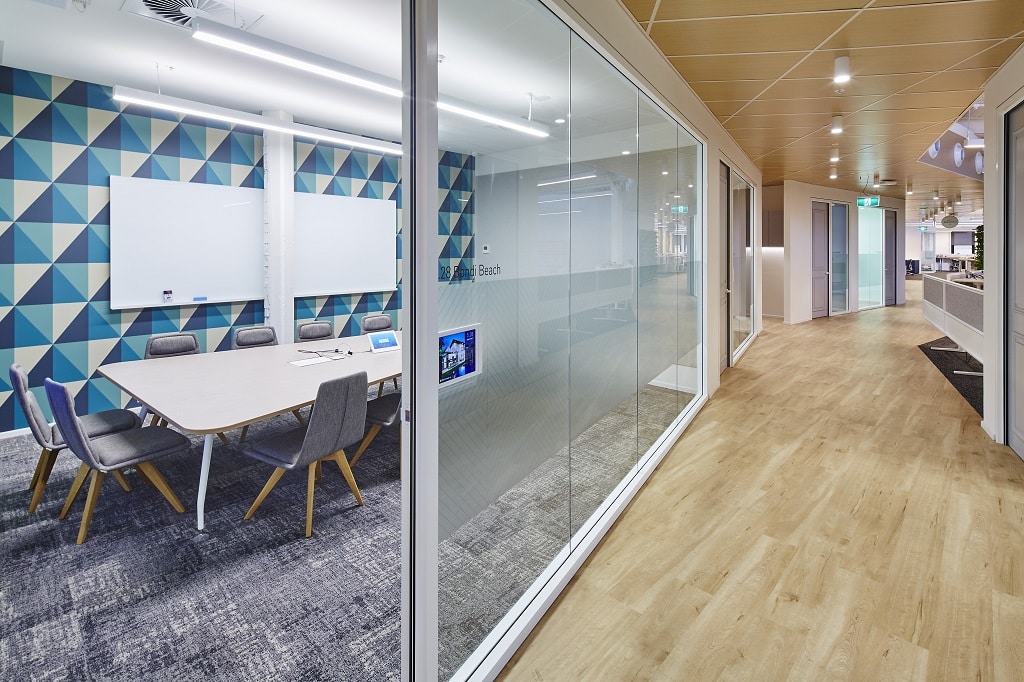 MATERIALS AND FINISHES
Incorporating functional, aesthetic and serviceable finishes into the design is key to a successful office fitout. Not only do finishes ensure the quality of the office will last under usage, they also set the mood and tone for the space.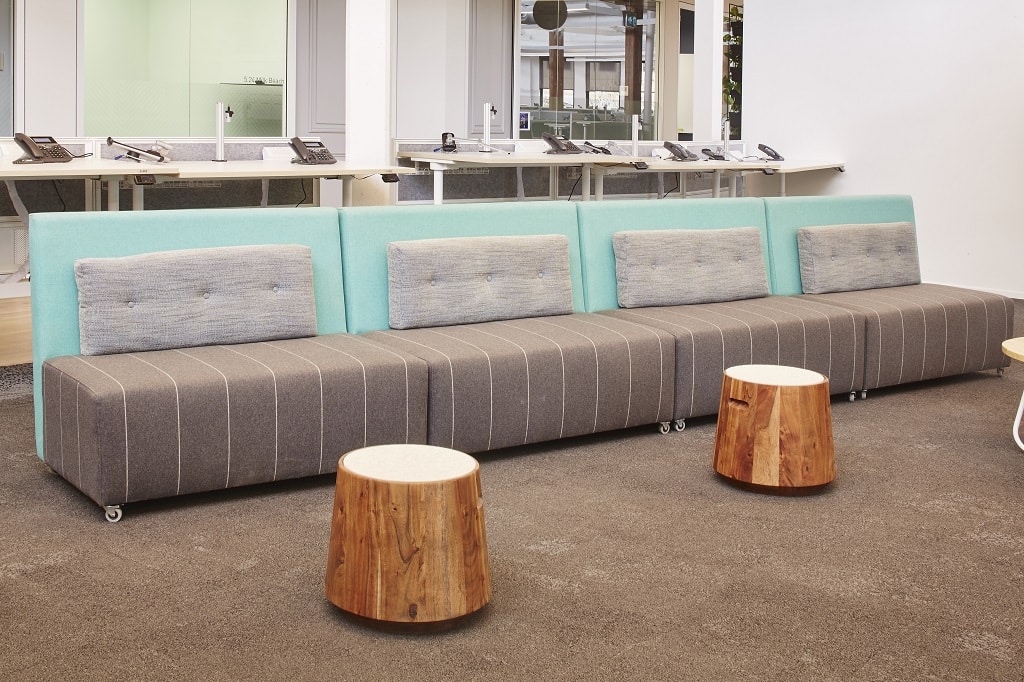 SUSTAINABLE DESIGN
By sustainable design, we don't just mean the 'green rating' of the office space, but how well the continuity of the space has been planned. A successful office fitout isn't just design well for now, it is also designed well for future, for growth, for change and for improvement. Is the way people work and collaborate in the new space sustainable? Does the space foster practices and processes that are sustainable?
Domain have embraced a contemporary office layout featuring an aesthetic reception entry and mixed-use space within the working area as designed by Siren Design. Open plan breakout space and workstations for team collaboration are in the centre of the floor while a variety of storage, wall mounted whiteboards, windows and enclosed meeting rooms line the perimeter.
For an office fitout of this size, it is important to cater for a number of working styles to ensure the fitout is sustainable. Quiet spaces, meeting spaces, team areas, relaxed breakout areas and utlity spaces ensure the design is functional, adaptable and ensures continuity. Providing space, resources and automony for staff is key for a successful office fitout.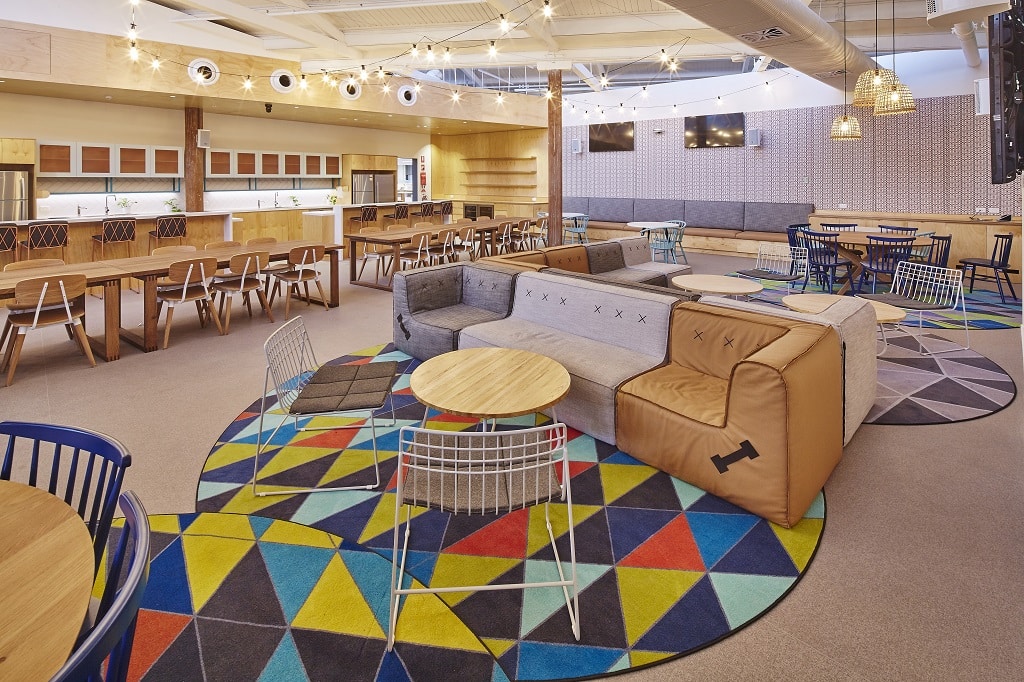 DESIGN FOR CULTURE
It is the small details that make a work space deeply reflect the company's brand, engage employees and boost productivity.
Space configuration, planning around staff needs and the incorporation of functional features is what transforms an office space into an area staff love to come to work, connect, interact and grow.
When staff can live the company culture, work in it, and be reminded of the culture daily by the office design, that is when company culture is truly powerful and company vision becomes a reality, daily.
The office fitout for Domain combines warm natural finishes, quirky colour tones and custom joinery verging on rustic. From every angle the fitout is welcoming; a homely place for staff to work and collaborate. We are seeing a blurring of the lines between work and home, an increase in 'work-life-balance'. When companies can embrace this change in their office layout, materials and components, they are fostering a positive company culture, vital for a successful office fitout.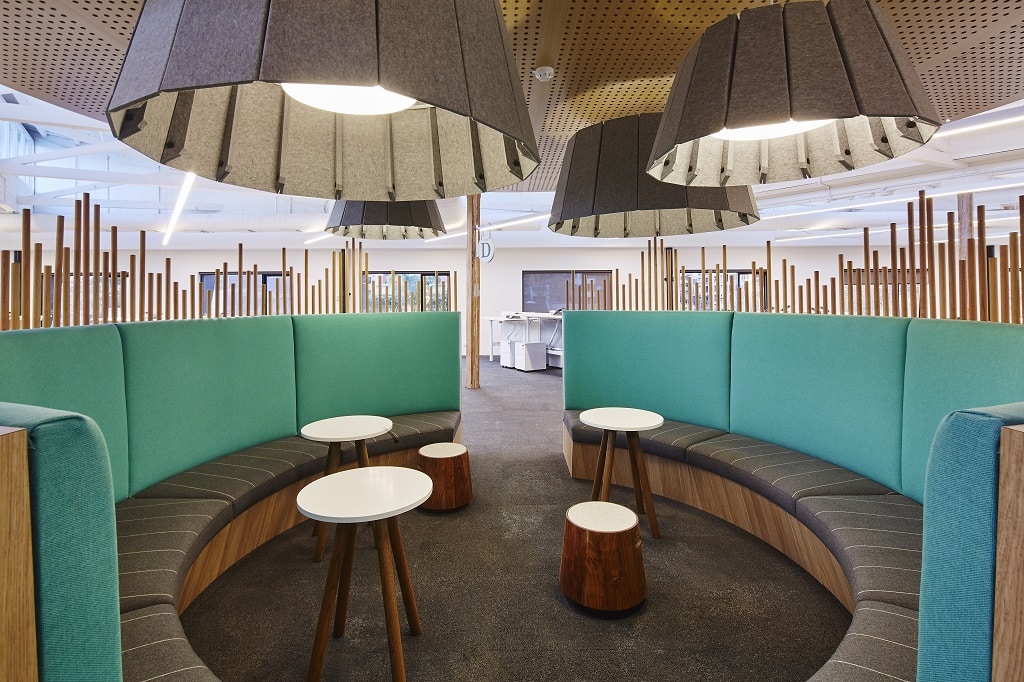 QUALITY CUSTOM FURNITURE AND JOINERY
We love revealing the hidden details, fine crafting and unique materials that make a project great. New office fit-outs and refurbishments are an investment into staff, an investment into future productivity and and investment into longevity. Quality is key. Construction is key. Together quality craftsmanship and fine materials take the space from good to great.
A dynamic custom wall feature is the backdrop in Domain's entry and reception. The panelling was grooved by router, cut, mitred and joined to create a unique custom wall panel requires precision, accuracy and attention to detail. The result is a subtle yet effective backdrop.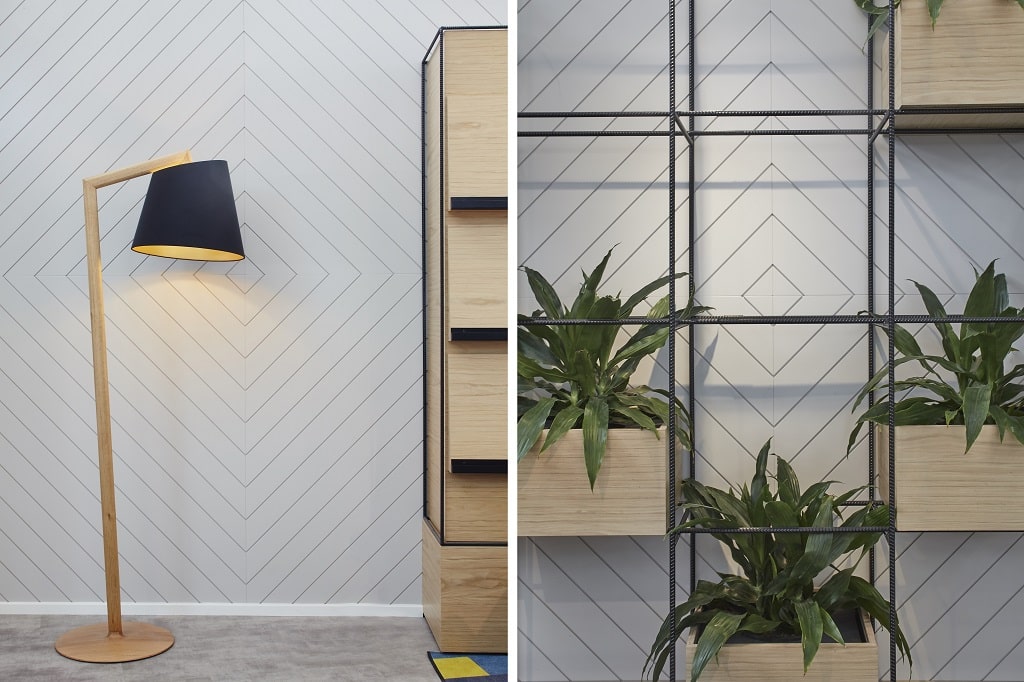 This custom circular collaboration booth is a manufacturing masterpiece.  A sloped timber kicker, curved timber surround and a handmade custom dowel screen enclose the upholstery. Each individual dowel was cut to a precice length as designed by the architect. The booth is the ideal workspace for semi-enclosed meetings and focused team work. Accoustic ligting features ensure the space is comfortable to work in.
The Domain kitchenette is an amalgamation of unique materials, all combining to create a space that is welcoming, vibrant and functional. Marine ply surfaces dominate the space, warm and natural. Brass mesh accents and blue framework tie in with the patterned upholstered wall panels and waterfall island bench.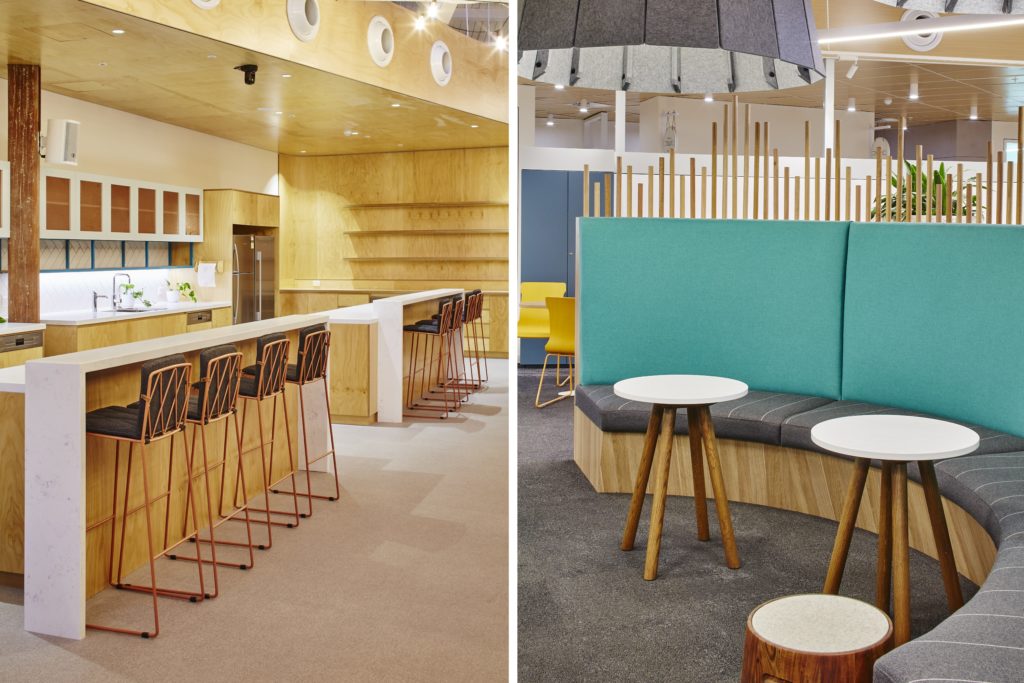 CONTINUOUS IMPROVEMENT
Success lies in being ready to progress, improve and change with the times. Modern office design is evidence based, its about reviewing collected data and feedback to determine whether work styles and behavioural changes are responding positively to the workplace design. Making strategic changes based on this evidence is key to providing continuity and lonevity in a workplace. Continuous improvement to workplace is vital to retain top talent, attract progressive individuals and maintain a positive workplace culture. After all, people are the living, breathing, vital component in our workplaces and catering for their needs through continuous improvement is a sure key to a successful office and workplace.
Aspen manufactured custom joinery and furniture for Domain Sydney's new offices. Project managed by Shape. Designed by Siren Design.