– What we learnt from the Knight Frank project –
Each new office project we work on teaches us office fitout tips and helps us improve the way we work with you. When manufacturing custom items we learn about new materials, better ways to construct joinery or new design styles that are trending. We also learn about how the workplace is evolving and changing.
Today we want to share that knowledge with you because knowledge means improvement and education is the premise of progress.
Here's what we learnt from our latest project, an amazing office space for Knight Frank in Melbourne.
Functionality is just as important as Aesthetic
…and those who can embrace both in office design are really getting somewhere! When designing a truly valuable office space, ensuring it is workable for those using the space is so key. So often we witness a work place designed for stunning aesthetic and innovative design. So often that design lacks the underlying functionality that will make it last.
The key take-away? A great aesthetic office design will attract talent, boost engagement and encourage higher quality work. An underlying functionality built into the design will make sure that work energy is harnessed and sustainable.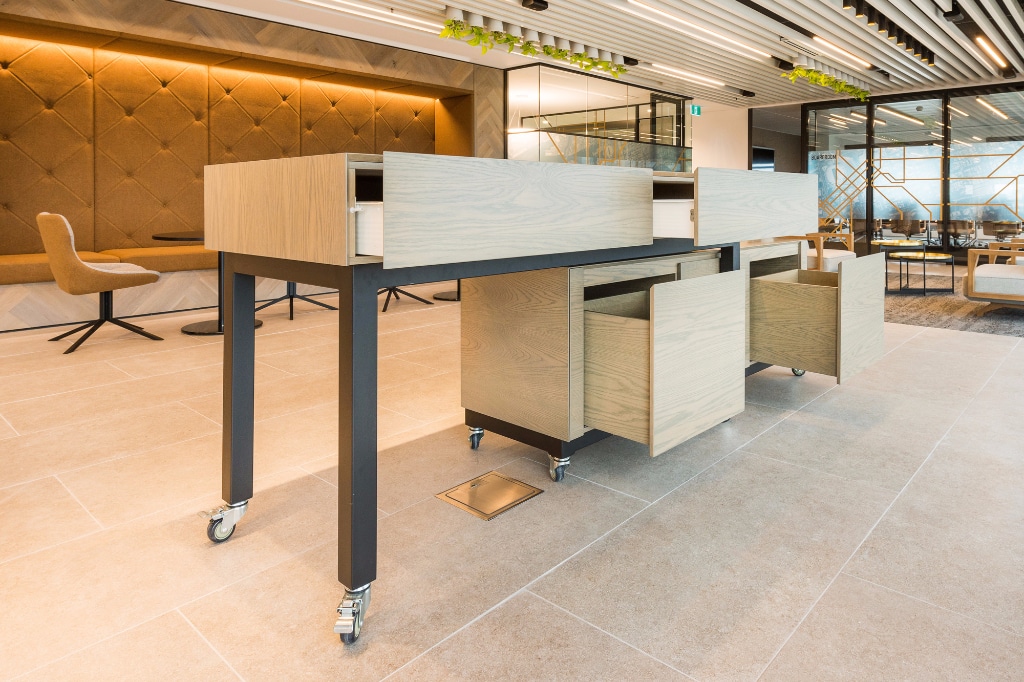 Offices Still Need Quiet Space & Meeting Rooms
While the modern workplace has seen a shift towards open plan working, there will always be the need for quiet spaces and meeting rooms. Even the most social of colleagues will need at some stage to really focus on the task at hand and best way to do this is to find a quiet place to work. The meeting rooms in this project are designed with acoustic wall panels for a quieter environment and glass partitions to ensure natural light. Modern teams love coming together in open places, breakout areas, banquettes and collaboration tables. However some teamwork calls for a semi-closed in place to cut out all distractions and allow good quality team work for maximum success.
The key office fitout tips here: ensure the office space accommodates a number of working styles, from open plan to team meeting rooms, individual quiet spaces and open collaboration areas.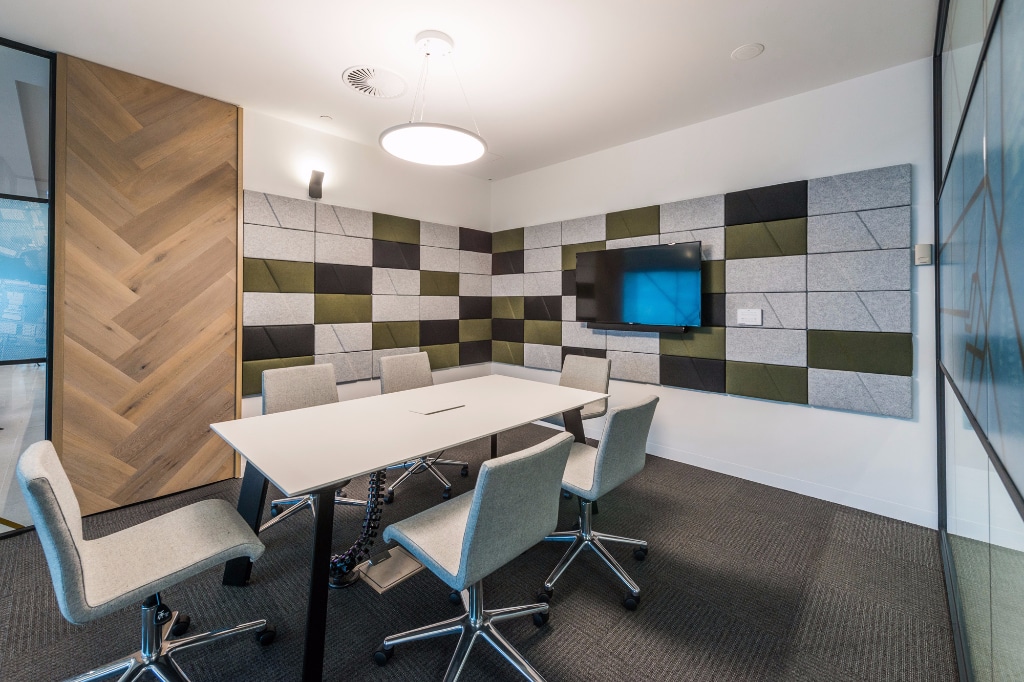 Glass Partitions are Ideal for Creating a Sense of Space
Are you working on a project where you would just love some more s-p-a-c-e? An amazing transformation happens in spaces where glass is used in place of opaque finishes. Light flows through from other rooms, natural glow is reflected and the whole space gains a buoyant ambience. Light filled spaces are invigorating and energising places for people to work and thrive. Creative minds are more open and productive in a workplace which feel spacious and open.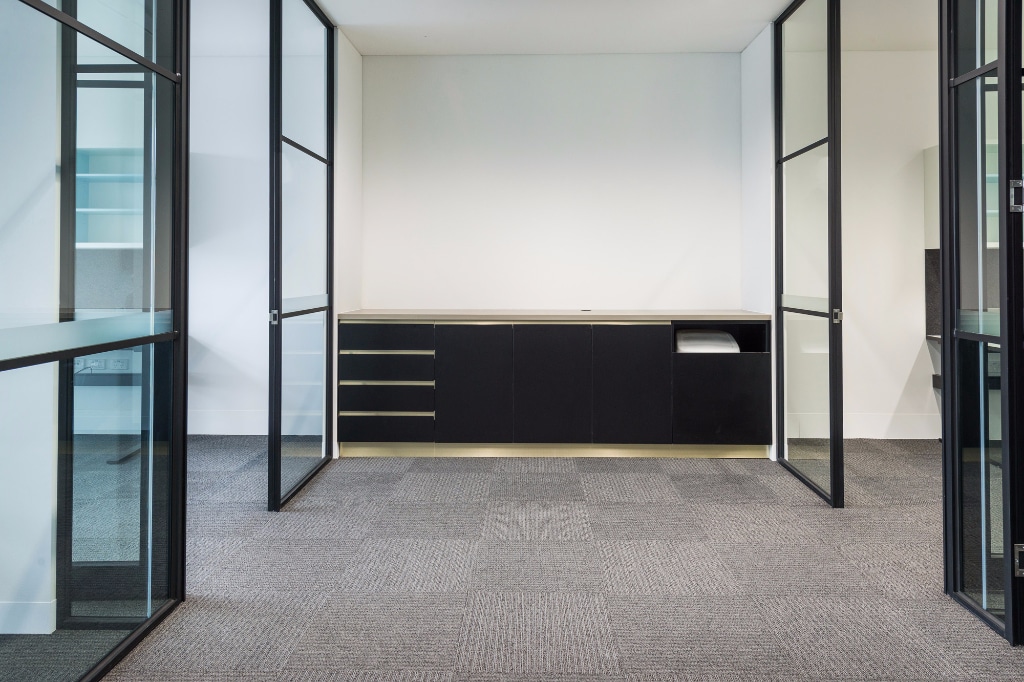 Modern Office Designs Bring the Outdoors In
93% of Australian office workers are based in urban environments. This creates a loud call for biophilic design in the work place, that is, natural elements like sunlight and plants. With the ever growing awareness of health and well-being at work, connection to nature in the workplace has become a key requirement. Human Spaces report that "Workers in office environments with natural elements, such as greenery and sunlight report a 20% increase in well-being, are 4% more productive and are 30% more creative".
Key take-away? Find a way to make your modern office designs biophilic. With planter top units and indoor plant walls, incorporating more greenery into the office is a simple and effective way to boost engagement and productivity.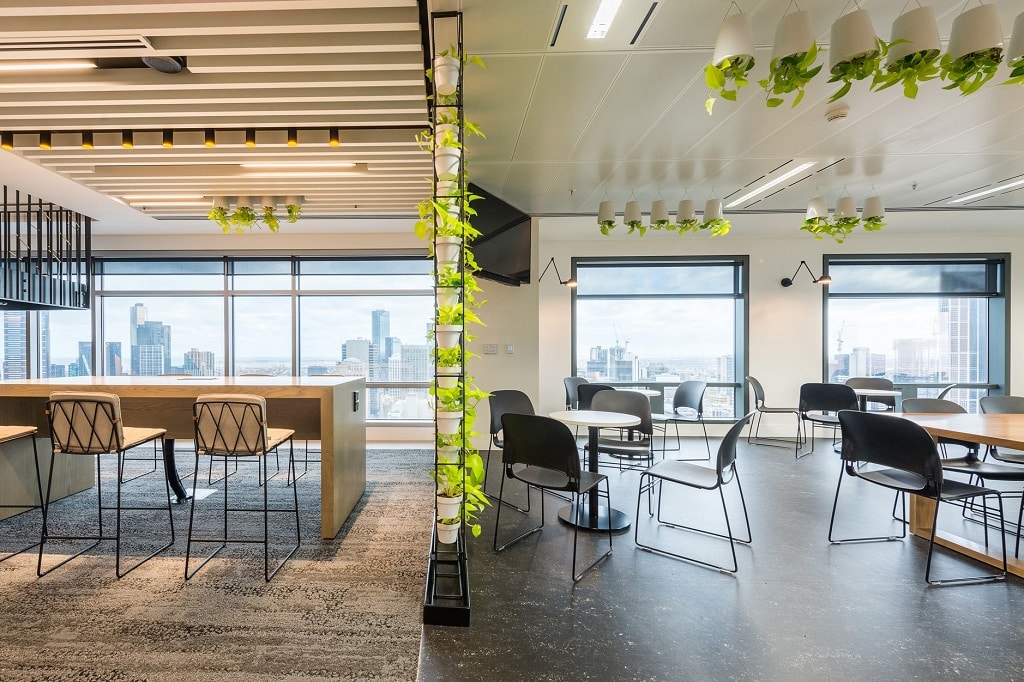 Luxury Finishes Are the Latest Trend
We call it 'workplace lux'. That touch of glamour. Luxury finishes that take the modern office to the next level. High end corporate firms are fighting a constant battle to attract and retain high end talent. Incorporating luxury finishes into the workplace joinery, seating and accessories is a simple and highly effective way to create a prestigious atmosphere and lift the workplace to the next level.  Brass trims and kickers to joinery, metallic vinyls on upholstery, pure wool fabric and buttoning detail on upholstery. These little touches of detailed craftsmanship in polished finishes are guaranteed to take an office to the next level.
The key office fitout tips here: embellish custom joinery and upholstery with luxury finish or expert craftsmanship to lift the office aesthetic and engage talented professionals by making them feel special at work every day.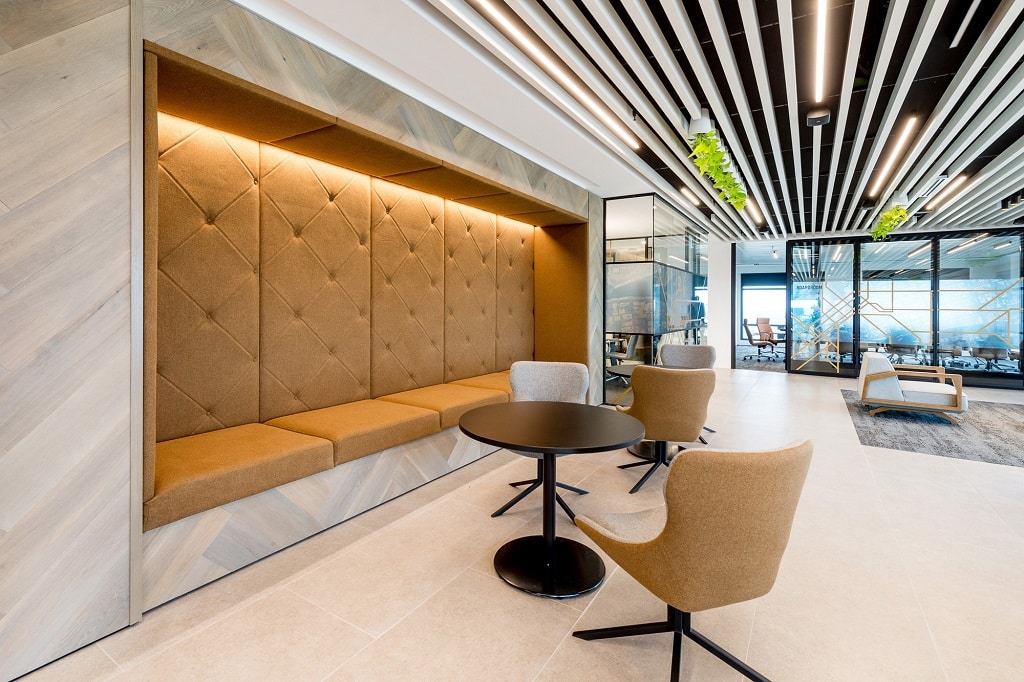 Office Fitout Tips for the Modern Office (In Summary)
Aesthetic spaces will encourage work. Functionality will make that work sustainable
Quiet space and meeting rooms are still a must-have for modern office design
Consider glass partitions to create a sense of space
Maximise natural light to boost productivity
Bring the outdoors in to create a biophilic space
Incorporate luxury finishes in custom joinery and upholstery to attract and retain high end talent
BROWSE PRODUCTS USED AT KNIGHT FRANK