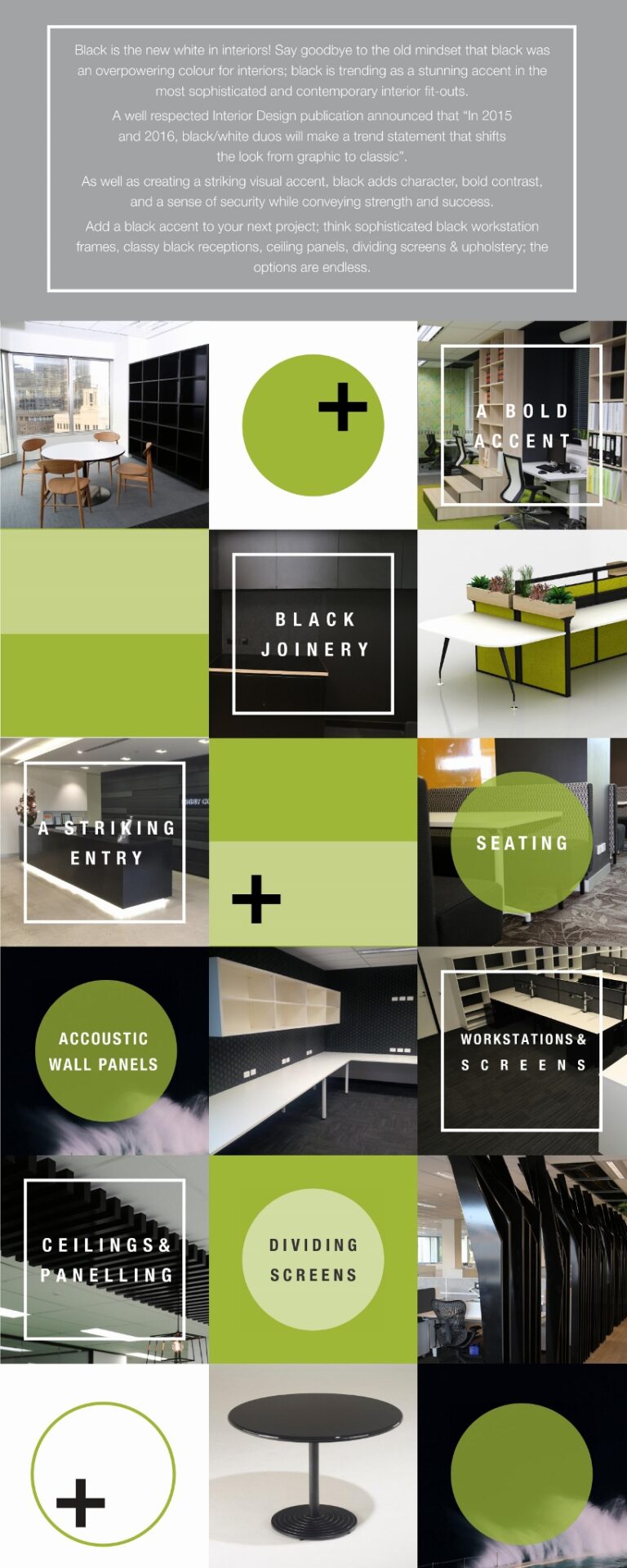 INTERIOR TRENDS – SIX REASONS TO USE BLACK
1. Add Character – The bold presence of black adds a sense of strength, personality and character to any interiors whether as a statement or subtly
2. Black is Timeless – Unlike some colours which date quickly, black is a timeless classic making it a long lasting and economical choice
3. Corporate Branding – Accentuate a companies corporate colours throughout the interior using black as backdrop or contrast for both bright and soft corporate colour palettes
4. Create Contrast – Whether paired with white, brights or pastels, the contrasting quality of black creates a highly effective visual accent
5. Create Depth – Black absorbs light creating a striking visual depth sure to enhance the aesthetics of any space
6. Create Mood – Being a strong tone, black can be associated with developing mood in a space and depending on how it is incorporated, can create a sense of security, strength, success, empowerment and warmth
SIX STUNNING COMBINATIONS WITH BLACK
1. Black & White – the classic monotone duo
2. Black & Plywood – for an organic / Nordic look
3. Black & Cream – a warmer elegant take on the classic black & white
4. Black & Green – a strong complimentary colour pair for a satisfactory aesthetic
5. Black & Yellow – visually stunning & creates a great balance
6. Black & Timber Grain – use light to mid tone timber grains for an earthy, organic & industrial look
INTERIOR TRENDS – WHY BLACK IS THE NEW WHITE FOR INTERIORS
Black is the new white in interiors! Say goodbye to the old mindset that black was an overpowering colour for interiors; black is emerging in interior trends as a stunning accent in the most sophisticated and contemporary interior fit-outs.
A well respected Interior Design publication announced that "In 2015 and 2016, black/white duos will make a trend statement that shifts the look from graphic to classic".
As well as creating a striking visual accent, black adds character, bold contrast, and a sense of security while conveying strength and success.
Add a black accent to your next project; think sophisticated black workstations, classy black receptions, ceiling panels, dividing screens & upholstery; the options are endless.