Designing and planning for a healthcare fitout calls for a number of stringent requirements around quality, hygiene control, longevity of finishes and durability. So what lies behind the real success of a serviceable healthcare fitout?
One of the key factors is using the right materials. Are you familiar with HMR, Antibacterial Laminate, Crypton and Akril?
Take your next healthcare fitout to the next level by using the right materials. Read on to find out how these surfaces are key in the healthcare industry…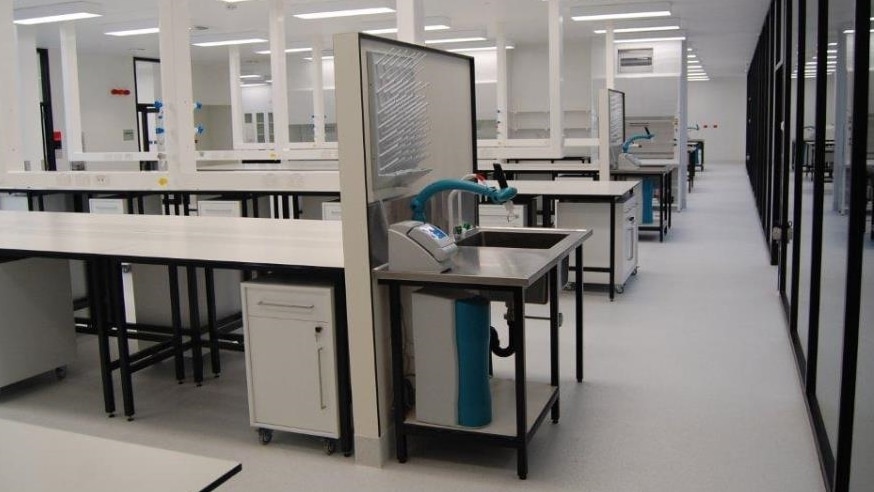 MR & HMR Board
Moisture resistant and high moisture resistant board have a much slower response to wetting than standard types. Manufactured with moisture resistant resins to repel water in areas of high humidity, HMR board is an essential for lasting functionality in healthcare fit outs.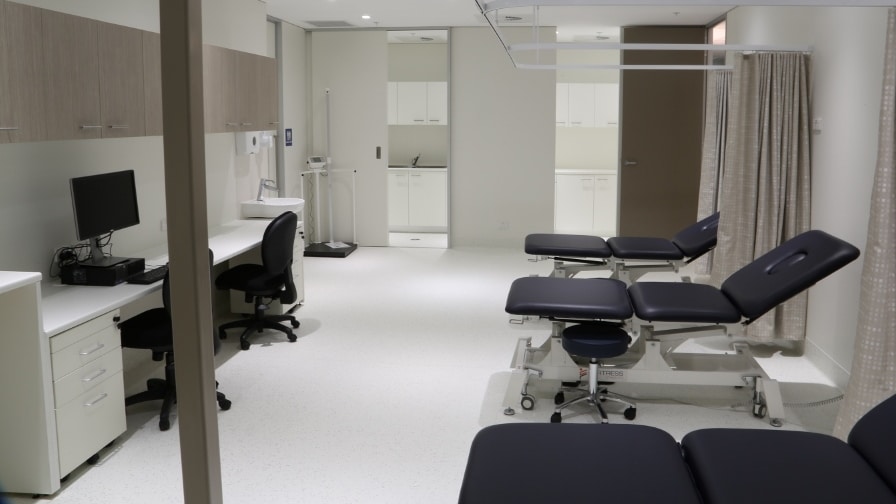 Antibacterial Laminates 
Hygiene is essential in the healthcare industry. Antibacterial laminates reduce the growth of up to 99% of common forms of bacteria on any decorative surface. Antibacterial chemicals in the laminate physically penetrate the bacteria cell wall preventing bacterial growth. This effective surface provides additional protection and resistance against the growth of bacteria, making it easier to meet these requirements.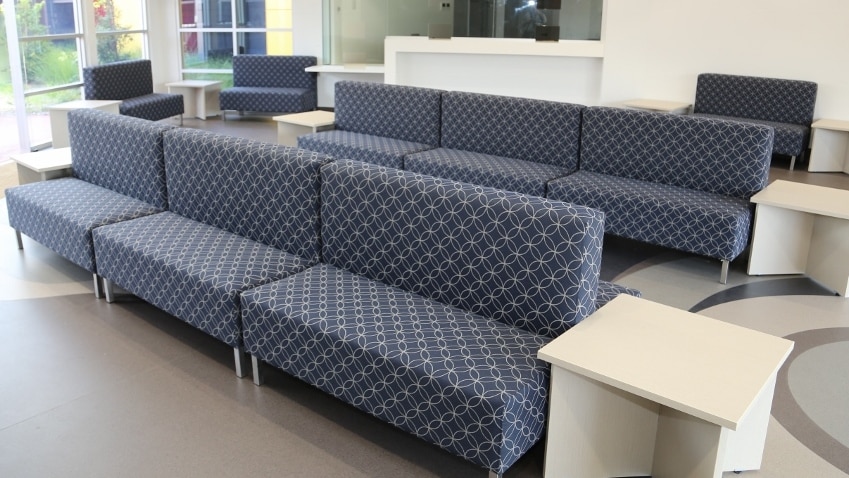 Crypton Fabrics 
Crypton is the ideal choice for upholstery in applications where moisture, stain and microbial resistance is key. Crypton is a heavy duty, high performance and easy clean upholstery choice providing intense moisture protection and high performance durability. Crypton provides a barrier against moisture ensuring longer lasting functionality and hygiene and has become an industry standard in the healthcare sector.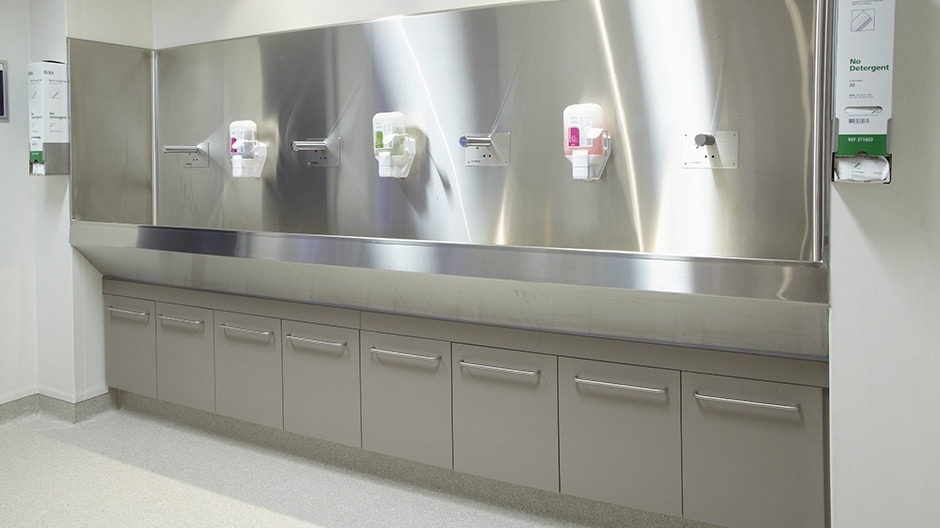 Hospital Grade Stainless Steel 
Stainless steel is an easy clean surface making it a first choice surface in the healthcare industry where strict hygiene control is imperative. Stainless steel's resistance to corrosion and staining, low maintenance and antibacterial properties make it an ideal surface for work benches, sinks and splashbacks in the medical industry.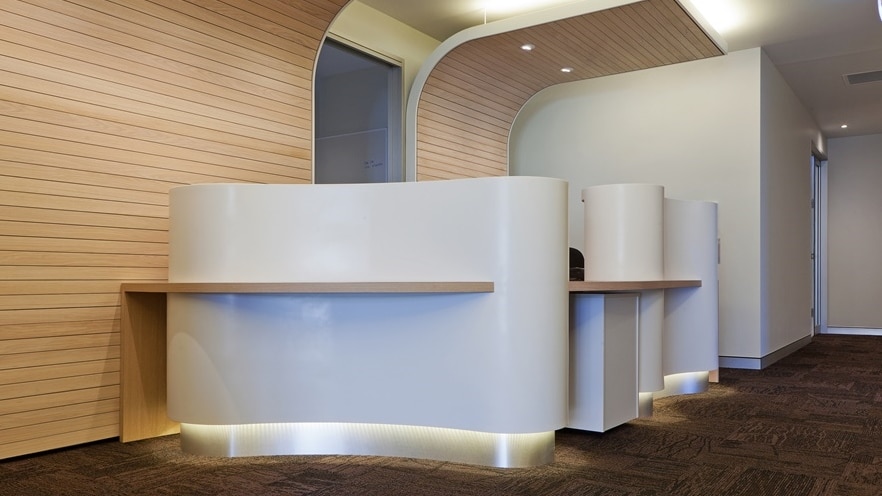 Corian 
The use of solid surface in the medical world is a given, with the first priority being maintenance of hygiene. Corian is a nonporous solid surface that is stain resistant and easy to clean, helping to reduce the spread of infection. Corian provides long lasting durability to a number of areas including receptions, nurse stations, patient rooms, theatres and washrooms.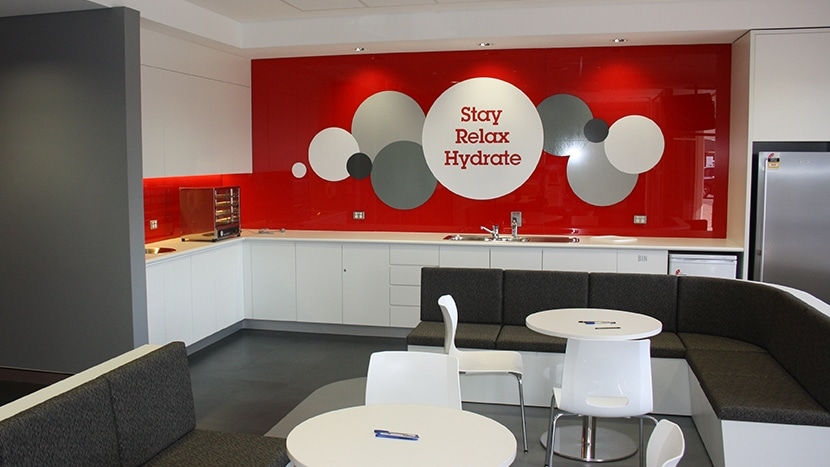 Akril Surface 
Akril is a durable engineered polymer surface. This versatile surface is ideal for vertical applications and creates a smooth and easy clean making it ideal for splashbacks and interior wall cladding in many areas of a healthcare fitout. Akril is also GECA accredited and an economical alternative to painted glass.
Aspen recently completed the fitout of Oran Park Medical Centre. Clinical yet welcoming, the fitout creates the perfect blend of design clarity and functionality.  View the Project Profile.
Browse Healthcare Project Profiles  – be inspired by clean lines, fresh colour palettes and functional designs.
Want more information or advice for your healthcare fitout? Contact a consultant now CONTACT US